All about the centre fire suppressor
Centerfire Suppressor Info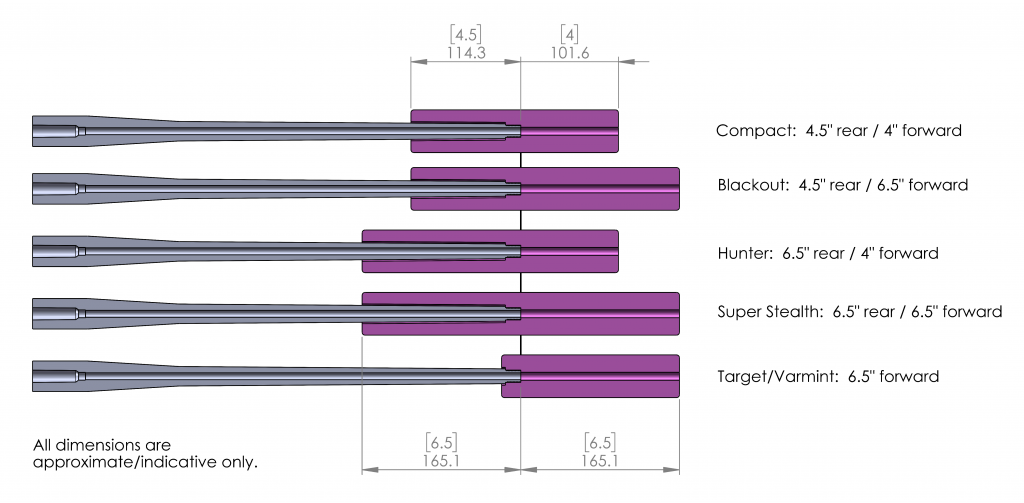 New for 2022:
After more than 18 months of trials and development, our new Gen2 Cyclone series™ over-barrel suppressors are available to the NZ market. Following on from several revisions to our Gen1 multi-baffle suppressors with the conventional 1-piece tube and threaded endcaps, we have now transitioned to a semi-modular 2-piece tube design, and increased the diameter to Ø1 ¾" (Ø44.5mm) tube. With a choice of 4 standard assembly configurations – and 2 different isolator tube diameter sizes options – there are now a total of 8 possible variations on this design available to best suit your rifle and application.
The four main configurations are obtained by a short or long rear (main body) section, and a short or long front section. The longer front section will naturally provide more suppression effect, whereas the selection of the long or short rear section depends on the length of bare barrel available ahead of the forend tip or handguard, and whether or not you need more expansion chamber volume for best match with either a long-action or short-action cartridge.
All standard rear modules feature an internal spiral-type diffuser/muzzlebrake which will accommodate all calibres up to .30cal (or .303cal. max). Front modules are available in .30cal max. , 7mm Cal. max. , 6.5mm Cal. max. , 6mm Cal. max.  (Special models for .338cal, .357cal, or .44 Mag will be available on special order.)  Additional front modules (different length or different calibre) can be purchased as optional extras if required.
All Kaimai suppressors feature hybrid construction with stainless steel all through the 'hot zone' and the thread section of the suppressor, along with a self-tightening feature (for conventional right-hand threading) when the rifle is fired, for best performance, durability, and reliability, all at the lowest weight and price-point possible.  As products of D.F. Maisey Ltd – from qualified master gunsmith Dean Maisey, with over 25 years and 70,000+ hours of industry experience – you can be assured of highest quality and honest/factual test-data and support.
Over-barrel suppressors.
These are the most popular choice in the NZ suppressor market for hunting rifles, due to the better security of the 'two point mount' design, which will prevent the thread section of the barrel from getting damaged/bent in the event of an accidental fall with the rifle. The telescoping expansion chamber coming back over the barrel also makes a more efficient use of the available space and allows for an improved level of sound suppression while trying to minimise the amount of muzzle-forward extension of the suppressor.  The polymer support bushing at the rear of the suppressor is to be bored out for a slight clearance fit over the barrel, so that it won't bind on or scratch the exterior surface of the barrel. The bushing is only there to arrest the movement of the rear end of the suppressor in the event of a fall with the rifle while hunting.
Muzzle-forward type suppressors ('Muzzle-can').
These are not as commonly used in the NZ market (for hunting, on centrefire rifles) and the over-barrel suppressors are, but they do have their place and specific purposes in the market.
Ideal for fitting to barrels over Ø22mm diameter, which may not be able to accommodate one of the over-barrel suppressor models, due to the limiting size of the isolator tube.
Suppressors used for varminting or target shooting may be subjected to higher rates of fire, meaning that the suppressor may run hotter or remain hot for a longer period of time compared with recreational hunting applications.
Muzzle-forward suppressors mostly keep the heat energy off the last 6" (150mm) of the rifle barrel, and will have a tendency to cool off a bit quicker than over-barrel suppressors. Minimising barrel heat-up will help to retain accuracy, however heat-mirage over the suppressor (when hot) must also be considered.
Muzzle-forward suppressors for centrefire rifles are usually in the 6.5" to 9" length range (165mm – 230mm ). Rimfire muzzle-can suppressors are usually 6.5" or less.
Kaimai muzzle-can suppressors for centrefire rifles are available in various thread size options from ½"-20 to 7/8"-28.
Muzzle-forward suppressors are sometimes fitted to lever actions or other tubular-magazine rifles where they may not be able to accommodate an over-barrel suppressor due to the presence of the tubular magazine under the barrel, or an extra-long handguard or forend.